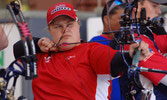 Canada Games 2019

Alexandra Paquette crowned Canadian Champion

Quyon's young archer, Alexandra Paquette, shined at the Canada Games by winning the gold medal in the individual pulley bow competition. "At first, I was pretty nervous, but everything came back to normal. I'm still happy with the way it went! " said Alexandra Paquette, shortly after her brilliant performance. "I wanted the medal! "she added.
More than a year ago, the 18-year-old athlete stepped on the second step of the podium in her age category in Argentina at the world championships. In her short career, she has already competed four times at the Quebec Games and has been named the best Canadian in archery on several occasions. In addition to excelling in her sport, Paquette is also a nursing student at Heritage College.
Her next major competition will be the Junior World Championships this summer in Spain.
The 2019 Canada Games were held from February 15 to March 3 in Red Deer, Alberta.