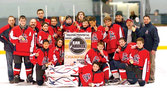 Aylmer Pirates Bantam B imbattu !

Les pirates Bantam B ont remporté le 27 novembre dernier la catégorie B du tournoi Aylmer Jean Labonté avec une fiche presque parfaite. L'équipe a subi aucune défaite. Les joueurs ont seulement égalisé un match lors du tournoi. En finale, les pirates ont obtenu une victoire par la marque de 2-1 contre les Montagnards Ste-Agathe des Monts.
Bantam B's Aylmer Pirates remain unbeatten

The Aylmer Pirates are the Bantam B champions in the Jean Labonté Provincial Tournament. They outscored the Montagnards de Ste-Agathe 2-1 in the finals on Sunday, November 27.