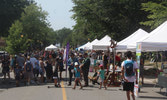 Festival du Vieux-Aylmer will return for it's eighth edition in August

Sophie Demers
The 2022 edition of the Festival du Vieux-Aylmer will take place on August 20 and 21, in the heart of Old Aylmer along rue Principale.

The festival is organized by l'Association des professionnels, industriels et commerçants du secteur Aylmer (APICA). It brings rue Principale alive with activities, performances, and local businesses for the whole family to enjoy. The festival showcases the heritage and beauty of Old Aylmer while stimulating the local economy.

In the past years, there were thousands of people attending the festival and taking advantage of the local craftspeople and business stalls, delicious food, street and musical performances.

The APICA will release the full programming for the festival in July.

Photo: Festival du Vieux-Aylmer 2021