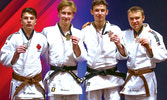 Gold for Félix-Olivier Bertrand at the Canadian Judo Championships

Aylmer's Félix-Olivier Bertrand won the gold medal at the Canadian Elite Under-18 Judo Championships in Montreal last weekend. This victory qualifies him for a tournament to be held in Germany in March.
Competing in the under 60 kg category, Bertrand began his first bout in style by scoring a waza ari (the opponent falls on one shoulder) in the first few seconds. Later in the match, his Ontario opponent gave him a waza ari, but Bertrand replied with an ippon (the entire opponent falls on his back), which allowed him to win.
His second duel was a very short one. He won it with two waza ari.
In the final, he met a familiar face, Quebecer Norbert Peter Andras. The match went into overtime. "I still had energy, I got the better of him and I managed to score an ippon to give me the victory," said the judoka.
"I was really proud and relieved; it was one of my goals for the year. It's a great achievement and it opens the doors to Germany," he said, talking about his win.
This was the 16-year-old's second participation in this event. He came away with the silver last year. (Trans.: BA)