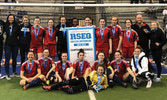 Soccer champs!
Heritage women's team take regionals


The Heritage CEGEP women's soccer team won the RSEQ regional championship. It took place in Montreal on April 13 and 14. The Hurricanes did not score a goal in two games in this tournament.
The Gatineau team finished 3rd in section B. They scored 8-2-3 in the regular season and started the year off with 5 straight wins.
The girls began their qualifying campaign by competing against the first team in their section's standings, Cégep de l'Assomption, in the semifinals. Captain Maggie Gilchrist opened the scoring with a powerful long-range shot. Heritage only gave three shots on goal in that game and went on to a convincing 3-0 win.
In the final, Jaelon Williams' troop competed at the Cégep de l'Abitibi, which had finished the season in 4th place. Defense was again the key to Heritage's success, winning 2-0. This championship is an extraordinary success for assistant coach Williams. "It was incredible! We really worked hard in practices and games throughout the season. Winning a tournament like this for the school is important."
"I was very proud," adds Gilchrist. It takes a lot of effort to get to that point. We are a very hardworking team during training, so we felt we deserved to win."
This team had only one goal in mind at the beginning of the season. "We wanted the championship," says Williams. "I knew we had the pieces to win. The head coach and I said earlier this year that we can win, but it depends on the players."
CEGEP women have improved significantly compared to last year. "Last year, we lost 3-1 in the semi-finals. We had no discipline and we were dominated. This year, we were more motivated and focused."
This is the first time in a dozen years that Heritage has received a championship banner in soccer.