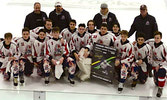 Midget A Éclairs take silver in Fleurimont
The Midget A Aylmer Éclairs drove home with their heads held high on February 16, following a 6-2 loss in the final game of the 2020 Midget-Junior provincial tournament in Fleurimont, Que.
Taking place from February 13 to 16, the tournament consisted of a preliminary round-robin, followed by a knockout round, which featured 12 teams from all across the province divided into three groups.
After finishing the group stage with two wins and a tie, the Éclairs topped their group and punched a ticket into the semi-finals where they took on the Titans de Saint-Louis-de-France and won 4-1.
Following the victory, the boys from Aylmer met with the Cowansville Husky in the final but, unfortunately, that's as far as they could make it.
Noah Driscoll led the way for the Éclairs offensively with an impressive 12 points (10 goals, two assists) in five games, including a six-point performance in the team's first game followed by a hat-trick in the semi-final.
Despite the unfavourable result in the championship round, head coach Joey Rouleau said he was very proud of his team's resiliency playing against highly talented teams throughout the weekend.
But ultimately, playing five games in three days with less resources than usual, Rouleau explained that his troops ran out of gas against a championship-built Husky team.
"The odds were stacked against us," he said. "We played all our games with only three defensemen. Usually we have five defensemen. Plus, we learned the day before that our captain – Xavier Collin - couldn't be there."